2021 was a great year for Kumi-U members. Every Wednesday Adrienne hosted Zoom meetings on a variety of kumihimo topics. These meetings featured live demonstrations, guest hosts and lively Q&A sessions. In a end of year survey Kumi-U club members requested more in-depth learning opportunities as well as the ability to work independently with on-demand content. Although we all enjoyed getting together each week the reality was that not everyone could make the sessions on a regular basis. So, in an effort to change with the times yet continue to offer great content, there will be some changes for 2022.
Exciting Changes for Kumi-U in 2022 – More Learning – Increased Flexibility

What's the Big Change? Instead of weekly meetings, there will be a "live with Adrienne" 1.5 to 2-hour mini-class on the 1st Wednesday of every month. During these classes Adrienne will teach in-depth projects that use traditional techniques as well many of her innovations. Students will have access to supply lists, instructions, the live Zoom class with an interactive Q&A, and the after-the-class Zoom recording.
Important – We will no longer be meeting every week. In place of the weekly sessions, members will have access to monthly project tutorials that can be worked at their own pace on-demand.
What does this cost?
The monthly recurring membership is $20 and includes:
Live attendance at the 1st Wednesday mini-class including supply list, instructions and the Zoom recording.
Access to all Kumihimo Wednesday recordings from 2021.
Monthly on-demand tutorials with access to the growing library of tutorials.
Priority registration to Adrienne's other classes.
"Early" notification and purchase of kits as they come available.
Kumi-U Club FAQs
Do I have to have a recurring $20 monthly membership to attend the 1st Wednesday mini class?
No, the mini classes are available a la carte for $20. If the purchase is made prior to the live Zoom session then you will be able to attend the live session. You will have lifetime access to the instructions, supply list and the Zoom recording.
Note: Annual Memberships will have full access to Kumi-U activities including mini classes until expiration date.
How long is my Kumi-U Club Annual Membership valid?
Annual membership are valid until their expiration date and will not renew. You should receive an email notice when your membership expires with a link to sign up for the monthly membership. You can use this link if you don't receive an email. You can check your expiration date under your account on the website.
How do members access the Monthly mini classes?
Date & Time: The 1st Wednesday of each month at 7pm Eastern Time. Plan on 1 1/2 to 2 hours.
The Zoom link will be accessed on the Kumi Wednesday page of the website, (the same as for 2021 Kumihimo Wednesdays).
Project instructions and supply list will be under Courses at the top right hand side of the website. These will be posted a few days in advance of the mini class.


The zoom recording will also be under the course. The recording will be posted within 48 hours after the mini class.
What are on-demand project Tutorials?
These tutorials are on the website on the Project Tutorials page. They include complete instructions with supply lists for fiber and beaded braid projects. New project tutorials will posted each month and will continue to be posted throughout the year. As long as you have a current Kumi-U $20 monthly membership you will have access to the growing library of the project tutorials.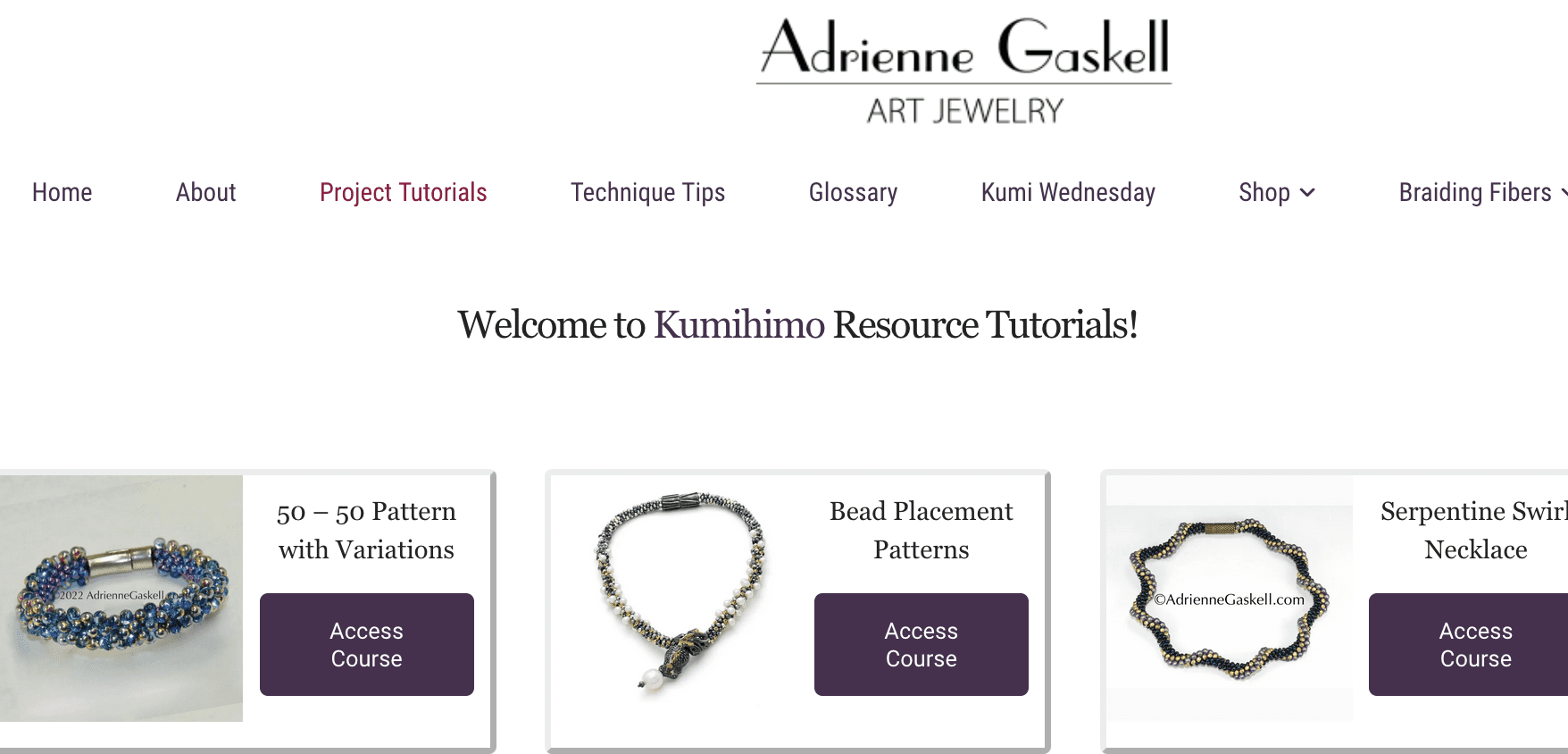 If I was a member in 2021 and I choose not to have a recurring monthly membership in 2022 will I still be able to view the 2021 Zoom meeting recordings?
Yes, you will have lifetime access to any recordings that occurred during your membership period. Simply make a request to view specific recordings at [email protected].
Is it possible to view one of the 2021 Zoom meeting recordings if I didn't have a membership in 2021?
Yes, there are two ways to be able to view these recordings.
1. All Kumi-U members with an active $20 monthly membership have access to these recordings.
2. Anyone can purchase these recordings for an $8 one time fee and have lifetime access.