Kumi-U Club in 2023

1st Wednesday of the Month Zoom Meeting
Members will be able to attend the live 1.5 to 2-hour meeting on the 1st Wednesday of every month. During the meeting Adrienne review any new tutorials and be available to answer questions about new or previous classes. The meeting may also include live technique demos, kumihimo tips and an inspiring Show & Tell. The meetings will be recorded and available with lifetime access to all Kumi-U Club members.
What does this cost to join the Kumi-U Club?
The monthly membership is $20 and includes:
Live attendance at the 1st Wednesday Zoom meeting. For those who can not attend, the Zoom recording will be posted within 48 hours with lifetime access.
Access to the growing library of Project Tutorials featuring a variety of fiber and beaded braid projects. They include step-by-step downloadable PDF instructions and/or videos. The tutorials are designed to make it easy for all skill levels to make the project yet challenge braiders to advance their knowledge and skills. Perfect for working on whenever you want at your own pace.
Priority registration and discounts for all virtual classes. Some of these classes will only be offered to Kumi-U Club members.
First option on Adrienne's limited edition kits and supplies.
Access to over 40 of Adrienne's recorded Video Technique Classes that cover a variety of essential techniques for both fiber and beaded braids.
Kumi-U Club FAQs
How do members access the Monthly Zoom meetings?
Date & Time: The 1st Wednesday of each month at 7pm Eastern Time. Plan on 1 1/2 to 2 hours.
The Zoom link will be emailed to all Kumi-U Club members the day before the meeting. The link will also be available on the Kumi-U page on the website under Upcoming Kumi-U Club Events.
What if I can't attend the live meeting?
The zoom recording will be posted (generally within 48 hours) under your courses by the date of the meeting. Members will have lifetime access to the recording even if they cancel their membership.
What are on-demand Project Tutorials?
The Project Tutorials are on the website on the Project Tutorials page. They include complete instructions with supply lists for fiber and beaded braid projects. New project tutorials will posted throughout the year. As long as you have a current Kumi-U Club membership you will have access to the growing library of the project tutorials.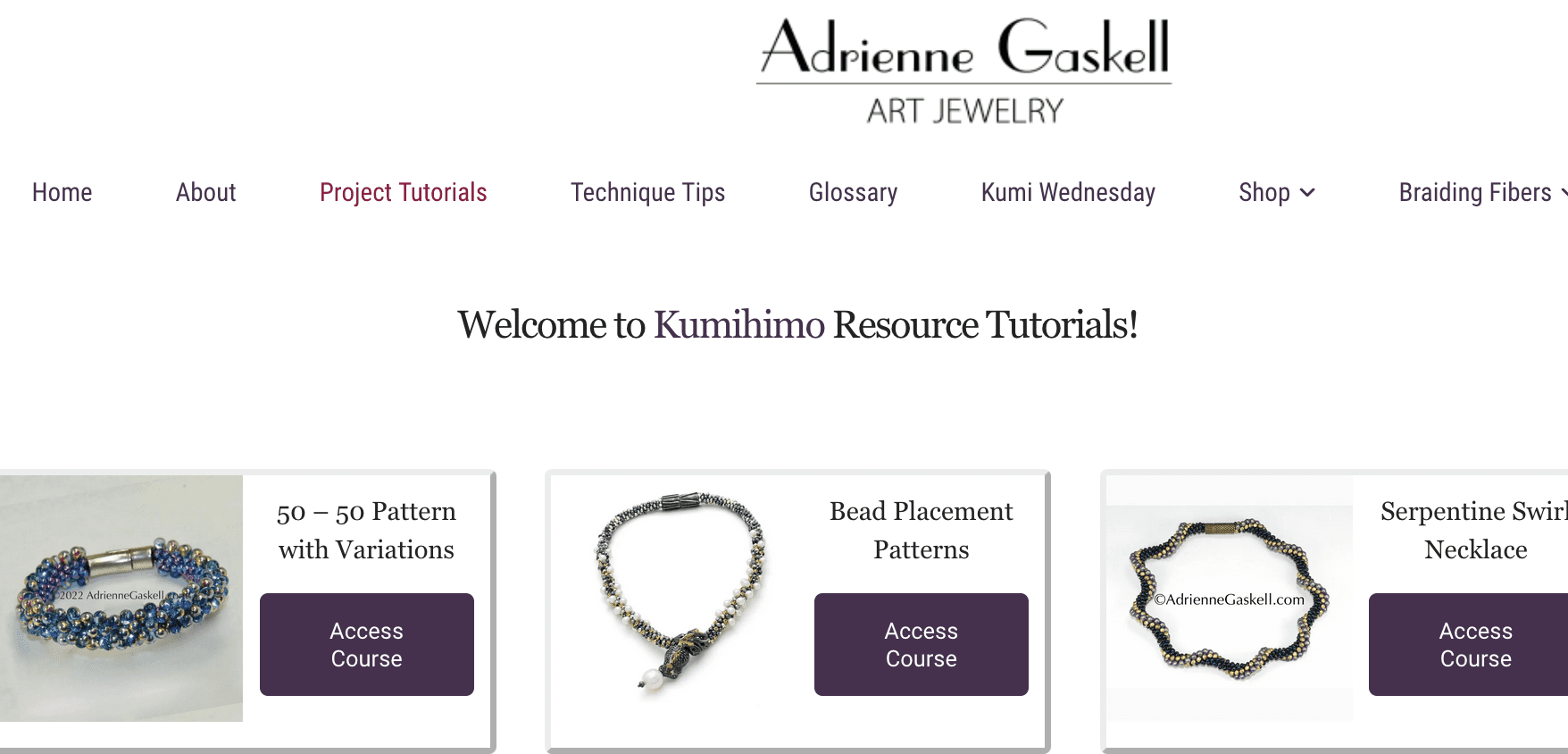 If I was a previous member will I still have access to my Courses?
Yes, you will have lifetime access to all of the courses that occurred during your membership period.