Back in-stock soon! Email Adrienne to get your name on the wait list. They are made in small batches and sell out fast!
When Would You Use a Baby Takadai™?
Although the Baby Takadai™ can be used as an introduction to a full size takadai, many braiders find it handy to own both pieces of equipment. They each have their own uses, as well as advantages and disadvantages. The Baby Takadai™ was never intended to replace it's grown up parent. For instance, if you want to make a very long braid such as an obijime or a braid wider than about 2 inches, the Baby Takadai™ would not be the best choice. However, it is great for making short, narrow braids to be used in my jewelry designs, especially necklaces and bracelets.

What are the Advantages of the Baby Takadai™?
• It's small. It fits in most work spaces.
• It's easy to set up. Since the warps are shorter you'll get to spend more time braiding.
• It's portable. You can pack it flat for travel or storage. Assembly is quick and easy.
Baby Takadai™ in detail

• Wide space for wrapping the braid, width is 1 7/8 inches.
• Stable, reinforced connections, no need to glue or permanently join the connecting parts.
• 3D printed plastic koma: .
1. The first and last pin on each koma are positioned at the very end of the koma so that there is no unusable space between koma.
2. Comes with 10 small koma making easy to advance them in the rail the same as a larger version. As the back koma become empty they are moved to the front.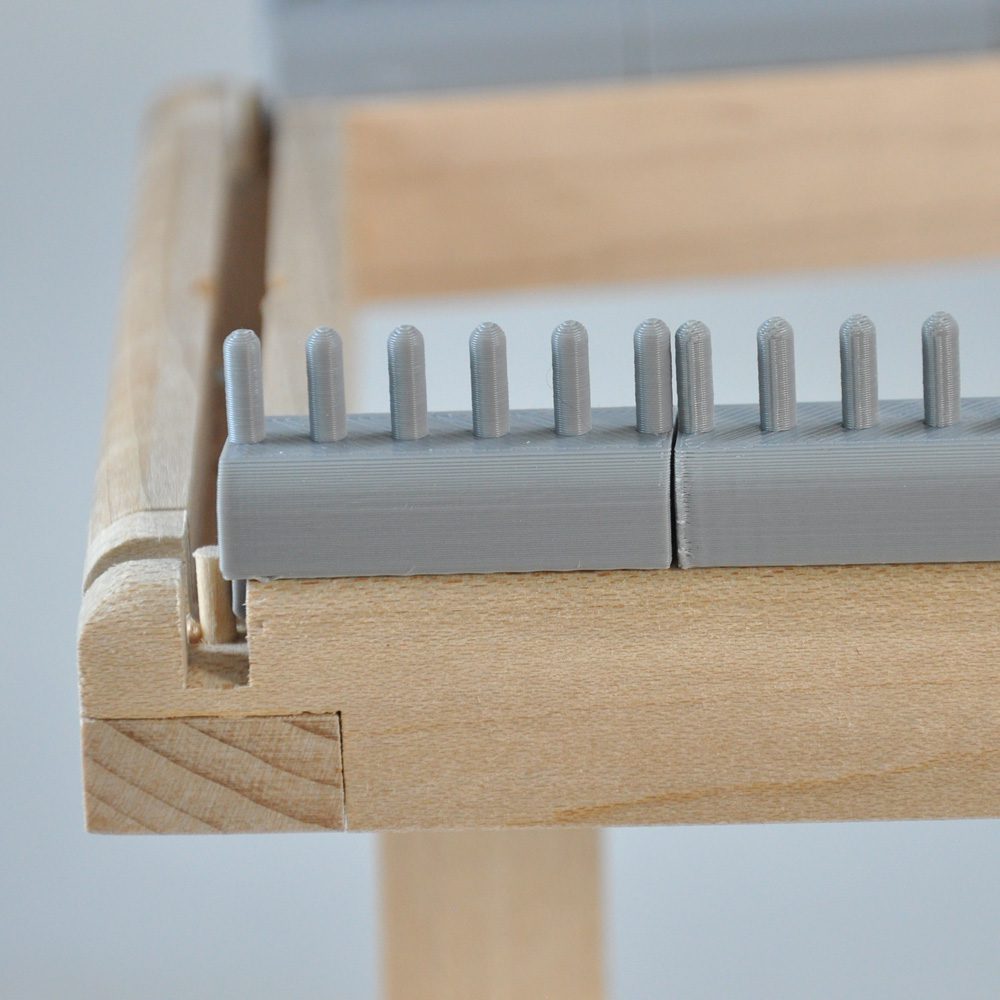 But – wait – there's more
• Made of hard wood maple and quality craftsmanship ensuring a lifetime of use.
• The Baby Takadai™ is very portable with quick assembly. It packs flat making it a perfect travel companion. Although there are only two screws to hold it all together the expert engineering ensures stability while working.
Interested in learning more about using the Baby Takadai™?
Getting Started Videos by Giovanna Imperia, Free to AKS members on the American Kumihimo Society (AKS) website

Connecting Warp to Baby Takadai™
Giovanna Imperia walks you through the process of attaching your warp or bundle of fibers to the Baby Takadai™ in preparation for braiding.
Connecting Warp to Bobbins
This video by Giovanna Imperia contains the explanation of how to attach the bobbins to the fiber bundles on the Baby Takadai™
Setting Up the Wound Bobbins on the Baby Takadai™
After the wound bobbins are on the Baby Takadai™, Giovanna Imperia explains how to determine the proper length for each warp.
Anda Gumi 101
Giovanna Imperia demonstrates how to create an Anda Gumi or 1-1 braid, the basic braid that is made on the takadai.
2-2 Twill Braid
Giovanna Imperia demonstrates doing the 2-2 twill on the Baby Takadai™
3-3 Twill
Giovanna Imperia demonstrates how to complete a 3-3 twill on the Baby Takadai™
What Else Will You Need?
Included with the Baby Takadai™ are 10 plastic koma (6 pin), 5 fit on each of the side rails. You will also receive a thin skewer. This is in case you need to replace any of the stop pins at the four corners of the rails. The pins are pressure fitted rather than glued so that they can be easily replaced in case any of them get damaged.
Bobbins (tama) are not included:
We recommend using weighted plastic bobbins with extra washers to increase their weight. Giovanna recommends 34 to 45 grams for most projects. Simply pop out the 24 gram washer, insert the 10 gram washer and then replace the 24 gram washer. Viola – now your bobbin is 34 grams.
LINK to Weighted bobbins: 23 – 24 grams
Link to Bobbin Washers: 10 grams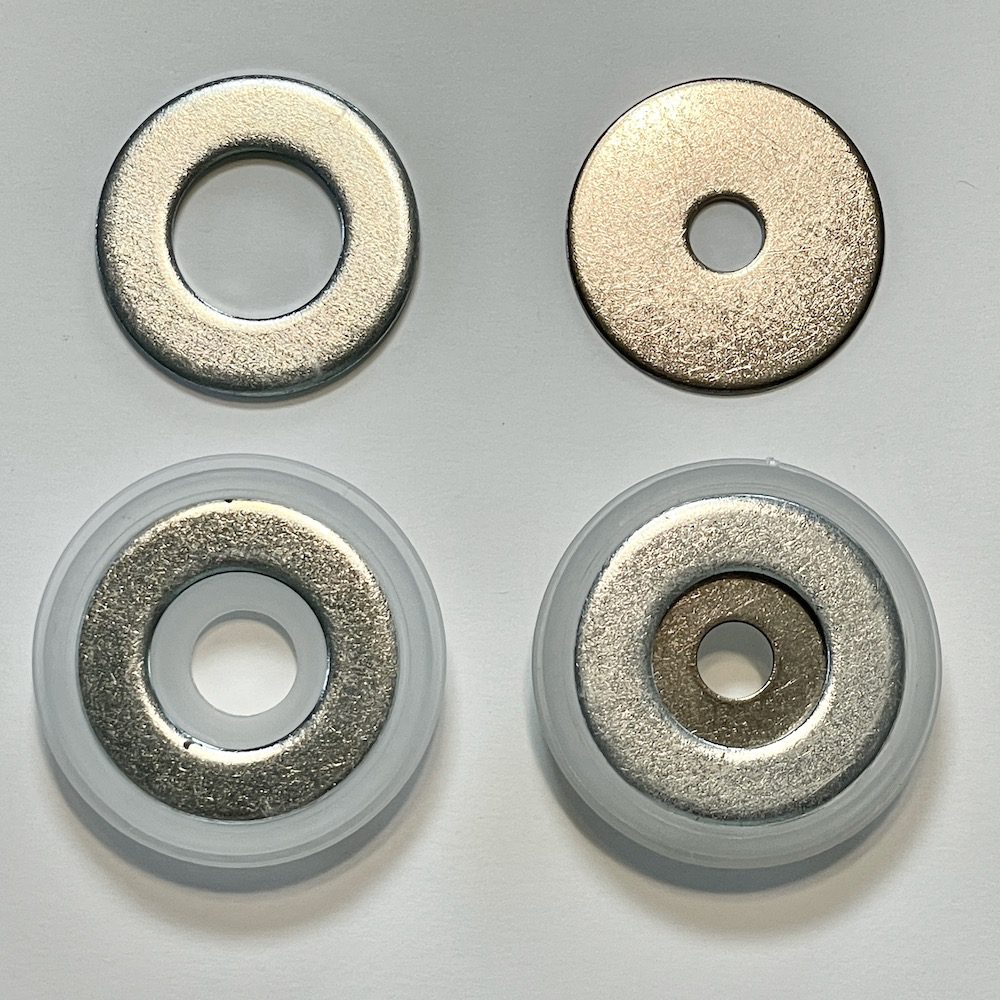 Sword is not included:
Braiders told us that a sword is a very personal choice. Giovanna recommends weaving swords, a shed stick, pick up stick or even a long letter opener. Look for one with a good point and smooth angled sides. The sword should be about 10 to 15 in. (25 – 37.5cm) long. Try searching Etsy and Amazon for sources. I bought mine for $16 from Wiener Dog Ranch Amazon.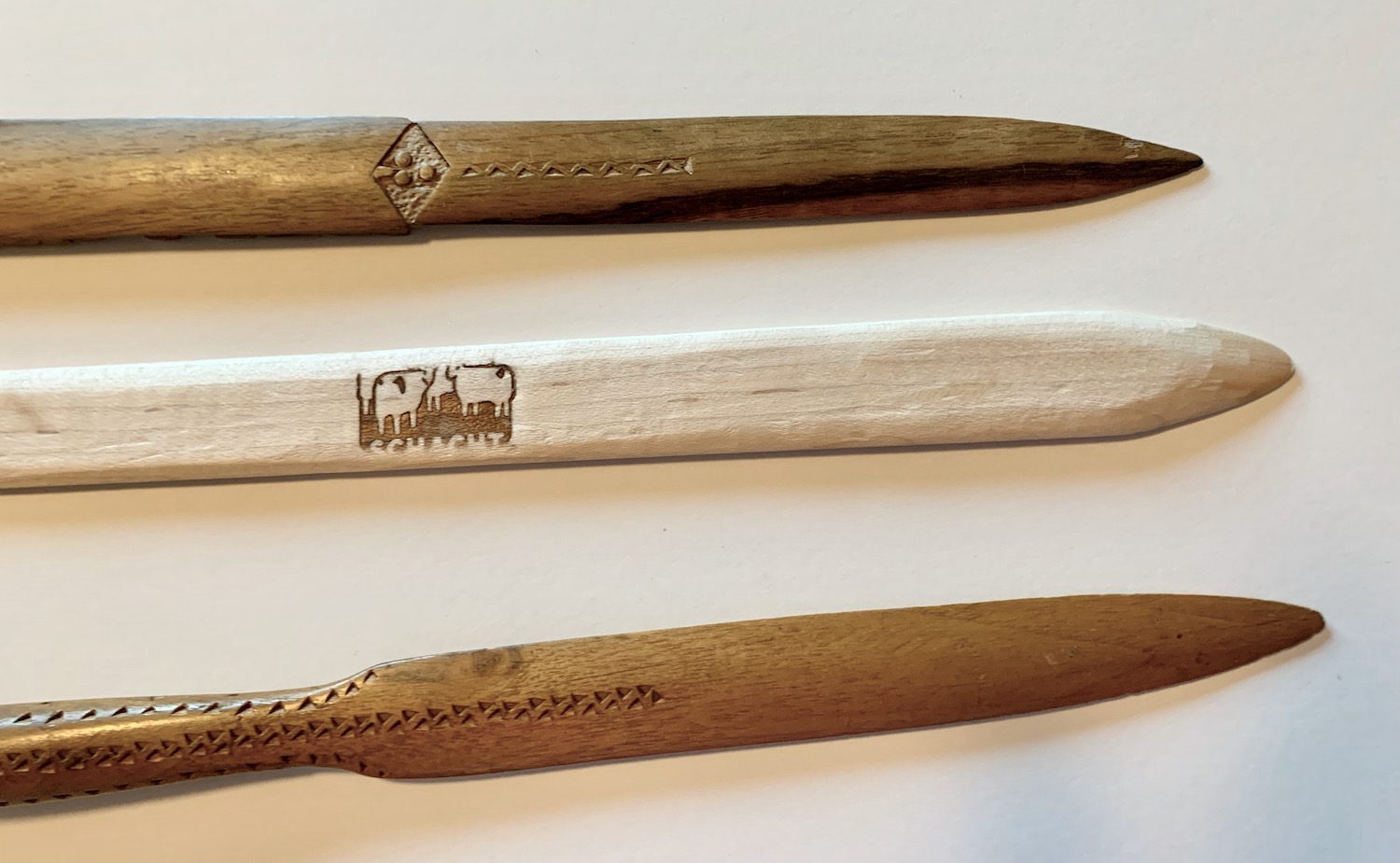 Shipping Outside the USA
I will be happy to ship outside of the USA. Overseas shipping charges will be calculated after the order is placed. Simply purchase the Baby Takadai, then you will be contacted to approve additional shipping charges if applicable.
Who Should Buy a Baby Takadai™?
Braiders as well as weavers enjoy using the Baby Takadai™. It is recommended for anyone who currently works on a disk or marudai. It is perfect for anyone who wants to advance their knowledge of braiding to include other equipment but may not have the space or budget for a full size takadai. A good imagination and creative spirit are helpful but not required!
Enjoy your braiding journey,
Adrienne
History of the Baby Takadai™
Back in late 2020, in the midst of COVID, the first Baby Takadai™ was born. I designed this new piece of braiding equipment to be used as a tabletop version of a full scale takadai. The idea came to me after I purchased a very small Japanese model of a takadai. It was meant to make small takadai braids. However, it did not really look or work like a full scale takadai. So I set my mind to designing one that would closely resemble, but more importantly braid like my full size takadai. Another goal was portability which the Japanese model did not offer. I wanted to take a dozen or so to class and introduce students to takadai braids that they could use in jewelry projects. After 2 years of experimenting and lots of consulting with Makiko Tada and Giovanna Imperia, I finally had the design for my Baby Takadai™.