Weighted plastic bobbins are used to hold fibers that need less weight than a tama but more than an unweighted bobbin. They are often used for cords that are additional to the tama used for the braid structure, such as to carry the pearl/beads for the Embellished Oimatsu.
If you have plastic bobbins without weights there are some easy DIY ways to make weighted plastic bobbins:
1. Hang a fishing weight on an unweighted plastic bobbin.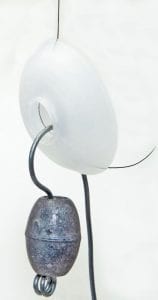 2. Glue or tape a washer to the flat side of a plastic bobbin.
NOTE: Did you know that the weighted washer can be removed from a weighted bobbin if you need an unweighted bobbin in a pinch?
Link to purchase weighted bobbins ($6.00, set of 8 bobbins) at KumihimoResouce.com